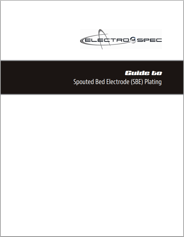 Electro-Spec's innovative methods for plating include our ability to utilize Spouted Bed Electrode (SBE) for Gold, Nickel, Electroless Nickel, Palladium and Copper plating. The SBE process is specifically designed for the following:
Small parts
Flat parts
Parts with counter bores
Parts with tabs
Parts that nest
Difficult geometry
This eBook will provide you with an overview of what Spouted Bed Electrode plating is and how it can be effective for your plating needs. Download a free copy today!