At its heart, passivation is a process that helps prevent corrosion and pitting on the surface of stainless steel. The passivation process applies a thin transparent passive chemically inert film to stainless steel that reduces the reactivity of the metal. This film deters corrosion, oxidation, and mild chemical attack.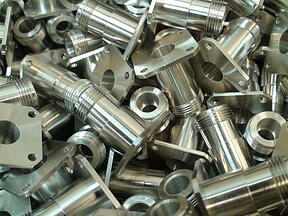 On top of its protective properties, the film can also improve aesthetics of the treated component. The only way for passivation to fail, is if you allow contaminates like grit in dirt, various types of oils and grease, and iron to get between the film and steel. At Electro-Spec, we avoid this problem by implementing a comprehensive cleaning procedure that includes vacuum vapor degreasing with ultrasonic capabilities.
Passivation Applications
Because corrosion and contamination can strip stainless steel of the metal's key advantages such as performance, cleanliness, and appearance; passivation is important as a process to maintain the metal's overall performance integrity.
It is popular in a number of industries including:
Aerospace and Military application (it increases quality of the steel which in turn helps with accuracy)
Medical Equipment (helps in the sterilization process)
At Electro-Spec, our unique passivation process, which includes a fully staffed chemistry laboratory, offers our customers the highest level of quality. Every aspect of our passivation process strictly adheres to the industries toughest standards including AMS-QQ-P35 and QQ-P-35, Nitric 1-5 in ASTM A967.
To read more about our particular process simply click the button below and you can download a copy of our publication about our passivation process. It's free and easy to access.