Products intended for more demanding applications can often miss their mark. Even if the design meets the proper dimensional or material requirements, there is no guarantee that the part or component will perform optimally.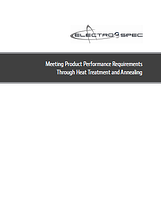 Different machining processes can alter the properties of any given material, making the product unable to endure the harsh settings they were designed for. At Electro-Spec Inc., we understand that you need the most resilient products possible; that's why we offer heat treating, annealing, and stress reliving services to enhance your products.
Heat Treatment
Heat treatment involves the use of heating and cooling a part to obtain desirable characteristics such as hardness, stability, and resiliency. Heating materials at varying temperatures and rates and then cooling them in certain environments will achieve different results; we have the capabilities of processing parts to up 1,000°F in environments consisting of air, nitrogen, or nitrogen-hydrogen.
Heat treatment can be a cost-effective means to enhance the mechanical properties of inexpensive materials; if those materials were previously hardened, however, you might incur more costs due to the more difficult machining. Our team is capable of hardening various kinds of materials, including high-performance alloys like Kovar and Invar.
Annealing
Annealing can provide materials with increased formability and ductility depending on technique used: full annealing can make a material more ductile, but with weaker tensile strength; normalizing can improve the machinability and stability of ferrous materials; and process annealing can restore ductility lost in earlier stamping, bending, or other processes.
We can obtain any desired properties by annealing a wide range of common and specialized materials, including steel alloys, brass, beryllium copper, and more.
Stress Relief
Stress relieving can be used on parts to reduce strain caused by hardening or machining. Using stress relieving processes can help strengthen your product by targeting its stress concentration points; these processes involve lower temperatures and can be used on different types of alloys.
Learn More with our New eBook
If you're interested in enhancing your products, download our Meeting Product Performance Requirements Through Heat Treatment and Annealing eBook today.
This free eBook will give you in-depth information about heat treating, annealing, and stress relieving, including how to identify the right process and material for you needs, and how to avoid common issues involved in these heat treatment processes.
Contact us with any questions you may have about these or other services we offer.