Electro-Spec has been providing award winning electroplating and electroless plating services to customers for over five decades. This includes applications for lifesaving and safety critical components. Plating is available in precious and semi-precious materials including gold, silver, nickel, copper, Tri-M3TM (Tri-Alloy), electroless and electrolytic nickel. This short article discusses these plating options, as well as their benefits and examples of industries that they are often found of use within.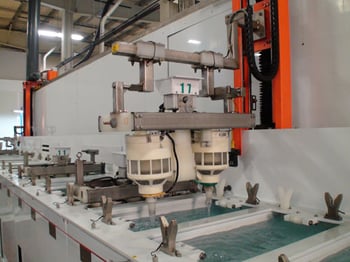 Precious Metals

Gold and Silver plating has been practiced, in various forms, for over a thousand years for decorative and ornamental purposes. This practice continues in our day and age, although modern advancements have found more practical uses for precious metal plating within the electronics and semiconductor industries. For example, due to their very high electrical conductivities gold and silver electroplating can be used to create corrosion resistant barriers for copper connectors and to improve solderability and wear resistance.
To find out more about Electro-Spec's Selective Gold Plating services, check out our eBook.
Copper
Copper electroplating is often used as an intermediary, adhesion promoting layer in multi-layer electroplating operations. This is useful when the desired electroplating layer does not bond well with the initial substrate. Copper finds application in many industries, including; aerospace, defense and electronics industries.
Nickel
Nickel is one of the most common electroplating materials and is often used to improve the wear and corrosion resistance of steel and other highly oxidative metals. Nickel electroplating is also used to create decorative/protective finishes in the automotive, appliance and plumbing industries.
Electroless Nickel plating is very useful for coating parts with irregular geometry such as recesses, cavities, and the inner surfaces of tubular parts. This process, can, after heat treatment, create surface hardness up to 1000 HV. As such, this process is well suited for wear resistance. You can read more about how we helped an automotive client with their nickel plating.
Although Electrolytic Nickel by nature does not have the same uniformity in plating distribution as electroless nickel. Electrolytic Nickel excels when material finish is of utmost importance. Electrolytic nickel plating is also useful for functional purposes such as wear and corrosion resistance.
Tri-M3TM (Tri-Alloy)
Tri-M3TM (Tri-Alloy) electroplating is a cutting-edge electroplating technology developed right here at Electro-Spec. Tri-M3TM was designed as a cost-effective substitute material for silver electroplating to meet the high performance needs of the RF industry. For more information on Tri-M3TM, refer to our eBook that provides excellent information about the process and its benefits.
Electro-Spec is a proud, Products Finishing Magazine Top Shop in America, that can provide exceptional finishing services too many industries. Contact us today to find out more about the electroplating services we can provide you.