Electro-Spec Inc. is more than capable of handling all of your precious metal plating and passivation needs for the medical industry including medical devices, instrumentation, and electrical connectors. With state-of-the art equipment, processes and technology, Electro-Spec will provide quality which is unparalleled by any other plating facility. We have the ability to meet the most stringent specifications in the medical industry, with indefinite traceability for all processes that we do. The most common metals utilized to plate medical components are gold and silver; these are metals which Electro-Spec has the capabilities of using. In addition, Electro-Spec provides passivation services which have been proven to allow medical instrumentation to have a more sterile surface.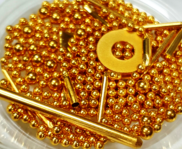 Gold has been utilized in the medical industry for hundreds of years. At one point it was thought to have extraordinary healing powers. In today's technologically advanced medical industry, the uses for gold are abundant. Gold plating is an excellent surface finish for electrical connectors due to its superior electrical conductivity and resistance to corrosion. The corrosion resistance also makes gold an excellent choice for medical instrumentation plating. The plating will stunt the growth of bacteria while remaining chemically inert during cleaning processes. In addition, gold is often used to protect components which make up implantable medical devices. Gold plating is the best choice for this application because gold is biologically benign, meaning that due to its elemental properties it has low toxicity.

Silver is another metal which is widely used in the medical industry. Silver is favorable due to its antibacterial properties. Silver actually works in an even more impressive way when exposed to bacteria than common antibiotic drugs. Silver targets several components within a bacterial cell or organism so the bacteria cannot easily adapt to gain a resistance to silver. This fascinating interaction actually involves protein inactivation and debilitates DNA copying. In addition, silver has excellent electrical conductivity so this would allow for applications in the medical connector industry.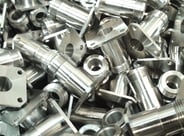 Passivation is another common type of surface finishing utilized in the medical industry. Passivation refines the surface of a part. The result is an extremely corrosion resistant or inert surface. The passive film which is created during the passivation process, aids in prevention of oxidation of the surface, lowers the ability for chemical attacks to penetrate the surface, and decreases the frequency of pitting on the surface. Passivation is especially useful in the medical instrumentation industry because it allows for the instruments to maintain a sterile surface. Electro-Spec takes pride in their ability to clean a part prior to passivation, which makes the passivation process more successful. Electro-Spec has extensive cleaning processes in place such as vacuum vapor degreasing and ultrasonic cleaning.
No matter what your medical industry surface finishing needs are, Electro-Spec is here to help!